2 Dads With Baggage: Adventures in Family Travel with a Gay Twist
It was 2 a.m. in Paris, and 7-year-old Ava Bailey-Klugh was wide awake. Jet lag is hard, especially when you're too young to understand why an entire country is sleeping when your circadian clock says it's time to play.
And it's also hard when you're the parent of said bright-eyed 7-year-old. Ava's exhausted dad Jon Bailey sat up with her in the hotel while the rest of the family slept. Father and daughter marked time together until just before 5 a.m. when Bailey escorted his little early bird to the bakery across the street in search of the day's first batch of pain au chocolat.
It's these one-on-one moments that kept Bailey and his husband, Triton Klugh, braving the perils of traveling abroad with children since their daughters — Ava and Sophia, now 15 and 17 — were young.
"When you travel long distances with your kids, there's a lot of focus time," Klugh says. "You're on a plane with them, waiting in lines with them, and you have nothing to do but talk and interact. It's really bonding to get to know your kid better and experience new things together. I've found that to be really valuable — you don't get a lot of that during the day-to-day when you're so distracted by everything else."
This family of four, based in San Diego, has seen the world together from Istanbul to Puerto Vallarta to London. Exposing their kids to history and culture — with plenty of adventure and beachside luxury thrown in — has been a key part of their parenting. "We wanted to be with them and not leave them at home and do all these things without them," Bailey says. "After all, we had worked really hard to become a family."
For the past three years, Bailey and Klugh have been documenting their adventures on a travel blog, 2 Dads With Baggage. With the help of a Virtual Private Server (VPS) from DreamHost, they've found a reliable home for their site, where they share stories along with travel tips and tricks — with a focus on charting the course for other LGBTQ+ families.
Starting a Family
For Klugh, family life was always the plan. He loved growing up with his brothers and sisters, so a future with children just felt right. "I wanted a family, but being gay, I wasn't quite sure how I would get there," Klugh says. "I just figured that when I was financially secure, I would do it by myself if I didn't have a partner."
On their second date, as he sat with Bailey on a beach in Coronado, Klugh casually broached a topic that most shy away from early in a relationship: children.
"It didn't scare me," Bailey remembers. "But it was not something I ever thought I would do. He brought it up again, many times, but he didn't pressure me; he let me warm up to the idea."
Once both were ready to become parents, they started the open adoption process and were told as a same-sex couple to expect 12 to 18 months.
But just two months later, they were shocked to get a phone call about an interested birth mother, and two months after that, they brought their new baby girl home from the hospital. Soon after Sophia's first birthday, they talked about finding her a sibling — and because adding Sophia to the family so quickly was a fluke, they started early. This time it took only five months. Having two so close in age was definitely a surprise, but a good one.
"I think any parent would tell you that having two in diapers and two in a stroller is more than double the work," Bailey says. "It makes you cross-eyed trying to keep an eye on them at the same time, but it was super fun."
Life With Two Dads
Today, between 2 million and 3.7 million children are estimated to have an LGBTQ+ parent with 200,000 of them raised by a same-sex couple.
But when Sophia and Ava were little, it was a novelty to see two dads parenting babies. "We would often get comments: 'Oh nice, you guys are giving mom a break,' like we were babysitting or something," Bailey says. "Or women would say, with love, 'Do you need help with that?' assuming that a man wouldn't know how to change a diaper or give a baby a bottle."
Instead of taking offense, Bailey and Klugh gave these people the benefit of the doubt. Most people, they reasoned, don't mean to be insensitive — they just don't understand. "We choose to take it as a teaching moment," Bailey says.
Bailey and Klugh never shied away from telling the girls how their unique family came to be, but soon Sophia and Ava were old enough to understand the probing questions from strangers — and to be teased by other kids.
When the girls were about 8 and 10 years old, "both of them were having struggles at school with kids who didn't understand that families can be different than the traditional," Bailey says. "It made them feel different."
A Heartfelt Letter
One day, Sophia had enough. So she appealed to the highest authority she could think of — the President of the United States.
Klugh and Bailey were sitting at their dinner table when Sophia presented them with a letter she had written to President Obama. "She read us this really beautiful, heartfelt letter about how kids had teased her for having two dads, and it hurt her heart, and how she was happy he was in favor of same-sex marriage," Bailey says. The letter wished Obama luck in his reelection bid, asked him how he would handle the teasing, and ended with an empathic request: "Please respond!"
In tears, Bailey snapped a photo of the letter written out in Sophia's 10-year-old handwriting and posted it to Facebook. It went viral in a matter of hours. "It was like a tidal wave," Bailey remembers. "We immediately started getting calls from [the] press wanting to do interviews. It was crazy!" Wanting to protect the family's privacy, they said no to every interview request — although a reporter did pass along an address that would get Sophia's letter directly to President Obama.
They sent it, and soon "a special delivery letter that I had to sign for was delivered to the front door," Bailey says. "It was a personal response from President Obama; beautiful that he took the time to do that." That letter too went viral, feeding the spotlight already shining on the family. The attention was overwhelming but also "affirming and amazing," Bailey says.
After things had died down a bit, they agreed to appear on The Katie Couric show to express support for the Supreme Court case that ultimately made it legal for Bailey and Klugh to marry. That TV appearance was followed by an invitation to attend the White House's annual Easter Egg Roll.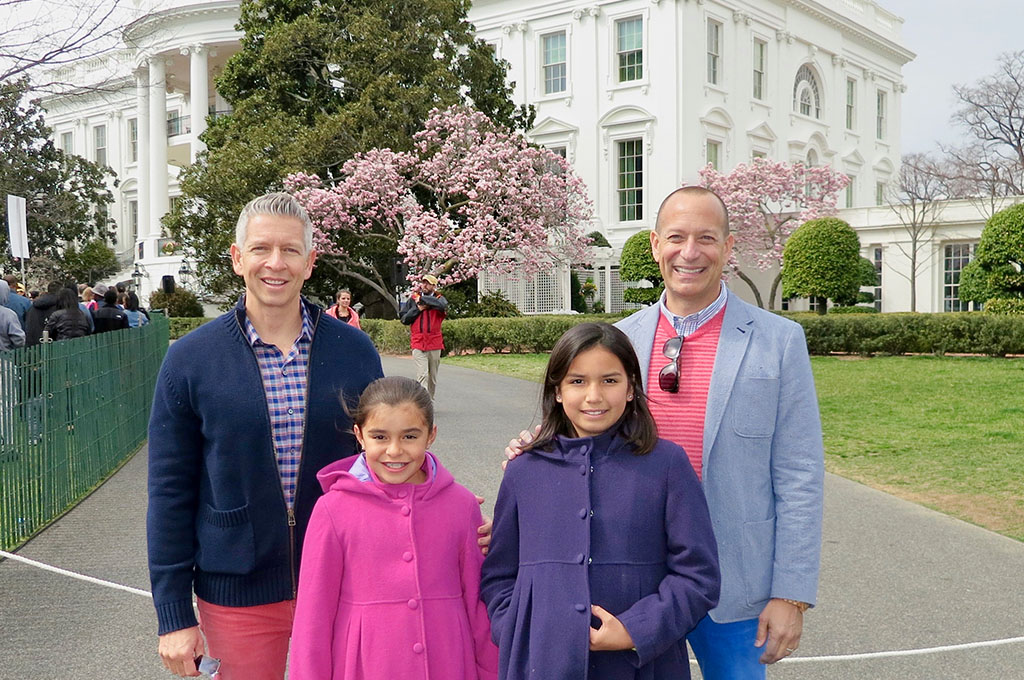 "We went to Washington, D.C. for about a week as guests of the White House; it was great because the girls were starting to understand the significance of all of this," Bailey says. "We went to the Supreme Court building and stood on the steps, and I was able to tell Sophia that her letter was being read on the floor and that it was influencing their decision. It kind of made it all full circle for her to see how this mattered; that this 10-year-old wrote something that became really important."
Digital Mentorship
Before unintentionally becoming a poster family for same-sex parenting, the Bailey-Klughs were already bona fide world travelers. Their first big international flight together came on a trip to the European classics — London and Paris — when Ava was 4 and Sophia was 6 years old.
"They were very intrepid little travelers," Bailey says. "We made it all in one piece, and they took everything in stride." It all came together for Bailey when the family stood atop the Eiffel Tower, catching snowflakes — a rare sight in Paris — on their tongues. "It was beautiful and surreal," he remembers. "Afterward, we had a snowball fight in front of Notre Dame."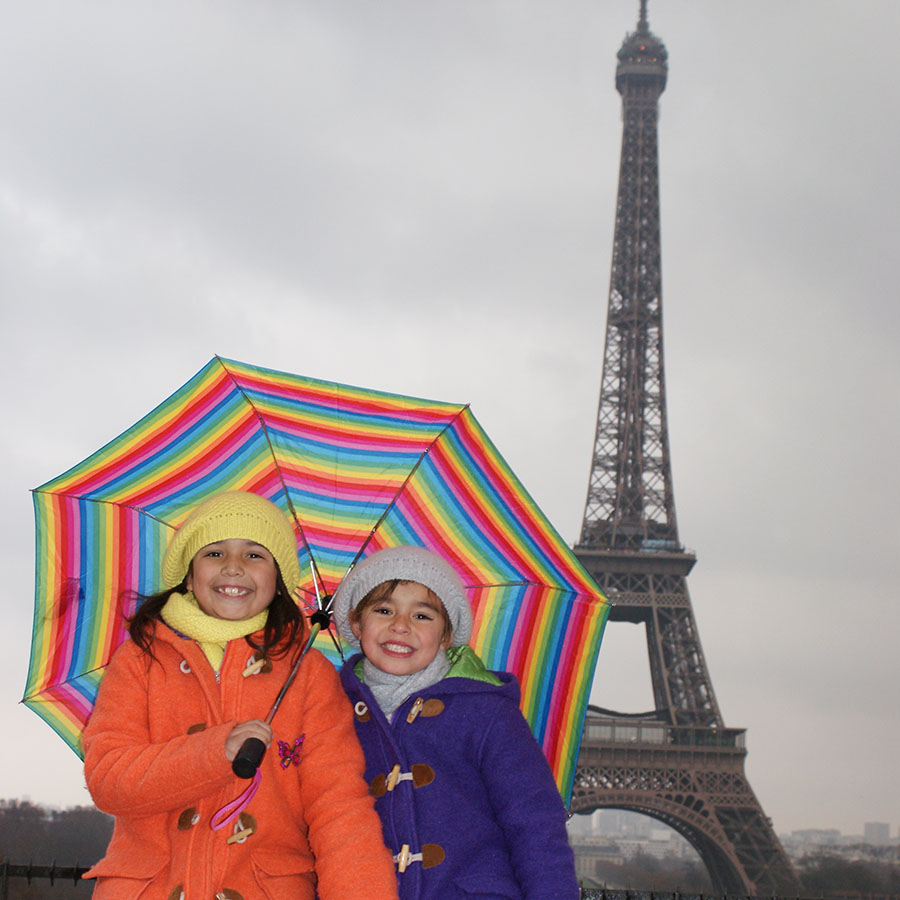 They kept traveling, hitting family-favorite destinations in Hawaii, Mexico, Italy, and Costa Rica. Bailey and Klugh soon got questions from friends, both gay and straight, about how to travel with kids and ideas for family-friendly activities at various destinations. Bailey, who had already started blogging about their experience with Sophia's viral letter, gradually started shifting to writing about their family travels. Bailey and Klugh soon used their blog as a platform to encourage other families to travel, especially ones that looked a little different than the traditional.
"There's a very large interest in families like ours finding places to go where we are welcome around the world," Bailey says. "LGBT family travel experiences really resonated with people. There's a lot of families who have kids younger than ours and don't quite know how to navigate everything, so we also share stories about parenting our kids. It's been kind of like a digital mentorship."
The blog gained traction quickly, both building a wide readership and attracting sponsors. "Brands recognized that we have a voice and a connection to an audience that they want to talk to." These interested brands opened the door to even more family travel, including a 2017 road trip to the Grand Canyon in a Kia Sorento — because, as Bailey put it, "Gays do not RV."
The blog has also been a great creative outlet outside their day jobs. Bailey works in public relations and Klugh in graphic design — specifically, in the Halloween costume industry (yes, the girls were always kept well-supplied with princess costumes). So Bailey writes the posts and plans the content, while Klugh is in charge of the visuals: design, pictures, and video. "Our blog is very visual," Bailey says. "We are very visual people, and the stories we have to tell require a lot of photos and video so the website was designed with that in mind."
They've used DreamHost for their hosting since the beginning, now using VPS Hosting to keep up with the web traffic. "I think it was the most reliable resource; it came highly recommended by my most trusted advisors," Bailey says. "It sort of happens behind the scenes, which is nice because I don't have to worry about it."
Lately, he's been experimenting with the WordPress plugin Mapify to create a visual archive of their photos and adventures. "We are in the process of outfitting a map of the world with all the places we've visited, so if people want to learn about a destination, they can just click on the map to see pictures and blog posts."
We Know You've Got Lots of VPS Options
At DreamHost, we've never been comfortable fitting in with the crowd. Here's how our VPS stands apart: 24/7 customer support, an intuitive panel, scalable RAM, unlimited bandwidth, and SSD storage.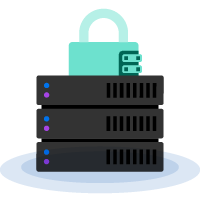 Traveling While Gay
Despite their website's success, traveling as a non-traditional family hasn't always been easy. When Sophia was about a year old, her dads took her along to Cabo San Lucas, in the days before passports were needed to enter Mexico. After a wonderful trip, the three settled down for the return flight and waited for take-off. And waited. And waited.
Suddenly, armed Mexican Federal Police officers burst onto the plane and removed them from the flight. They found their luggage strewn across the tarmac and were shepherded to an interrogation room. Both Sophia and Ava are Latina; "They thought we were trying to smuggle a child out of Mexico," Bailey says. "It was scary and insulting." Luckily, they had the paperwork to prove they were Sophia's parents.
The family's No. 1 tip for LGBTQ+ families traveling abroad? Bring your papers.
"I've heard of other families having issues where people didn't understand that two men or two women can be the parents of children," Bailey says. "But I don't think an experience like ours would happen in today's world — that was 16 years ago, and Mexico has come a long way; the world has come a long way." You never know though, he adds, if you'll cross a flight attendant, customs agent, or pilot who doesn't understand.
"I wish it wasn't the case, but it still is; some people are not comfortable with families like ours," Bailey says. "And we've never in all our travels had anyone overtly say something to us or do anything to us that was violent or insulting, but we can tell when people don't approve by the look on their faces or the way they interact with us."
He also recommends that same-sex parents do their research before picking a destination for family travel — in general, avoid Middle Eastern countries, where homosexuality is often illegal — and look for a more liberal neighborhood to stay in.
"Things are improving around the world," Bailey says. He feels like they have been pioneers, increasing exposure to non-traditional families. "I feel good about being a part of that, just being visible and showing people that we are just like anybody else, just here parenting kids, doing our thing."
Raising Globetrotters
Klugh and Bailey are getting ready to send their teenage daughters out into the world as they graduate from high school in the next few years. They believe traveling has brought them closer as a family and exposed their children to different ways of living.
"The world is a giant place, and there's many different kinds of people and all shapes and sizes and cultures and languages," Bailey says. "What's happening here in San Diego or California or the United States is just a slice of the bigger picture. We very much wanted to raise our daughters as citizens of the world."
Giving them the chance to help plan trips, get around foreign countries (both girls are bilingual and happily help their dads navigate in Mexico), and experience the logistics of travel has helped Bailey and Klugh raise a pair of confident, well-adjusted kids.
"Travel gives them a sense of empowerment," Klugh says. "I want them to be familiar with travel, to know they can do it, and not be afraid of it. The other day Sophia was talking about wanting to fly somewhere by herself, and she was confident about traveling and not afraid to go to new places. It's inspired that wanderlust in them."